Modular
Configure your watch by selecting case, movement module and strap.
Moon
Three different ways to read the phases of the moon.
Design
Mechanics reinterpreted through the codes of minimalist Danish design.
Collect
Collect mechanical complications, not watches.
Select a watch or configure your Måne by putting module, case and strap into your cart
We will notify you when available again
Key features
Moon phases
One of the most emotional watch complications. The Måne module encases a Sellita SW288 automatic movement with moonphases and date.
Moon reading
One movement. Three different ways to read the phases of the moon. The phases of the moon, the states of the moon and the days of the moon. 
Three modules
There is a different module for each moon reading. Each module-case combination creates a different aesthetics within the same watch design.
Titanium ergonomy
The ergonomic Funder case is machined out of titanium. Titanium grade 5 (Ti-6Al-4V) is widely used in aerospace. Light, resistant to salt water and corrosion and anti-allergic. 
Top Grade
Superior in-house machining and machine finishing. Sapphire crystal and Superluminova® luminous hands and indexes.
Swiss made
Technically developed, industrialised, manufactured and hand-assembled in-house in Switzerland.
The moon
Behind the dial of the Funder module there is a disc with two identical moons printed on it. This disc rotates one complete cycle every twenty-nine and a half days. 

The moon disc is driven by a 59-tooth gear that is advanced one notch by a mechanical finger every 24 hours, thus corresponding to one full rotation for the entire lunar cycle.
The modular system
The modular system of Funder watches gives the possibility to seamlessly collect watchmaking complications and experience multiple aestetic and fuctional combinations within the same case design.

 
Meet the Creator
Thomas fell in love with drawing 18 years ago in northern Denmark. He was 11 years old and bored inside his grandparents' house during a rainy day. One day his father gave him a piece of paper and a pencil so that he could draw cars copied from car magazines. Since then Thomas never stopped sketching.

Laureate from the Royal Danish Academy of Fine Arts in Copenhagen, Thomas started designing watches in 2015 and founded his own design firm in 2017.

He designs for avant-garde brands such as REC, Seven Friday and many others. Thomas also designs objects and furniture. 
My watches are about Minimalism. Minimalism aims for simplicity and objectivity. It reduces the design to the fun­damental, the essential and the necessary. It strips away the ornamental layers that might be distracting from the core focus. With this creative approach my aim is to design objects that can manage the test of time and still remain attractive in years to come. I believe that minimalistic design can become very inspiring when complexity is hidden under the surface and there is more to the project than what is seen on the surface. 
The challenge of hiding complexity within simplicity is a challenge which can be difficult to master and the constant temptation of showing more than the necessary can be hard to resist. 
Unbroken lines that can embrace a product, gives a feeling of peace and comfort. 
About Thomas Funder
Architecture
If I had not become a designer, I would probably have gone into Architecture. Another scale of design which I find very impressive. I can spend a lot of time admiring it.
Cars
Cars have always been a great interest of mine. Pininfarina, Bertone and Giugiaro were my inspiration. I still like to sketch cars, from time to time, as a hobby.
Pen and paper
I like to use pen and paper to design. I combine various drawing techniques to express my thoughts. It's tempting to use 3D programs, but I prefer to postpone that to later in the process.
Events and inventions
I spend a lot of time understanding the events and inventions of the past. Learning about my ancestors is something I find very interesting. This airplane was flown by my great-uncle.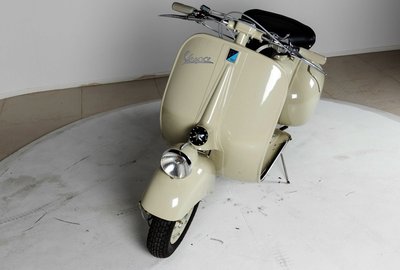 Classic vehicles
Classic vehicles are something that caught my attention early on. When I was 15 I managed to save up enough money to buy a '53 Vespa which I still have and have fully restored.
Horizons
Travelling is something I appreciate very much. It gives me the opportunity to expand my horizon and get to know new cultures, that can be both mind opening and inspiring.
Home
I moved to Switzerland in 2016. Since then I have often used any given opportunity to travel back to Denmark and stay at the shores of the North Sea where I find peace.
The inspiration
The moon and its organic shapes. Our fascinating satellite which influences the natural phenomena on our planet and our concept of time.
Aesthetically, I wanted to create a watch that felt like one. A watch where parts would be melting together and lines would be continuous without any clear segregation between the elements. The curvature is not only giving a significantly different look to the watch, but it is also creating comfort since the case, caseback and strap perfectly merged with each other and are curved to be wrapped around the shape of the wrist.
The moonphase, as a first complication, was a natural choiche for me. I love it becasue it's very unique and emotional since it replicates a natural phenomenon and depicts what can be seen in the sky at any given moment.  It's often used in classic watches, but I was convinced that with a modern interpretation it could become more intriguing. I therefore wanted to Integrate the Moonphase complication into a watch in a new and different way, executing it though minimalist graphic elements that are in constant change. 
I have been inspired by vintage Monocoque design watches from the 70's and early 80's. Those watches were often quite heavy and bulky and eventually brands began to move away from the concept to a more traditional construction. I wanted to go back to this type of design and recreate it in a new, light and modern way.
 
I put a lot of value on the experience. Through an integrated modular system I have left the personalization is in the hands of the owner. While case and strap remain the same the complication modules can be seamlessly exchanged. With Funder watches I want to give the possibility to collect watchmaking complications and experience multiple aestetic and fuctional combinations within the same basic watch design.
The watch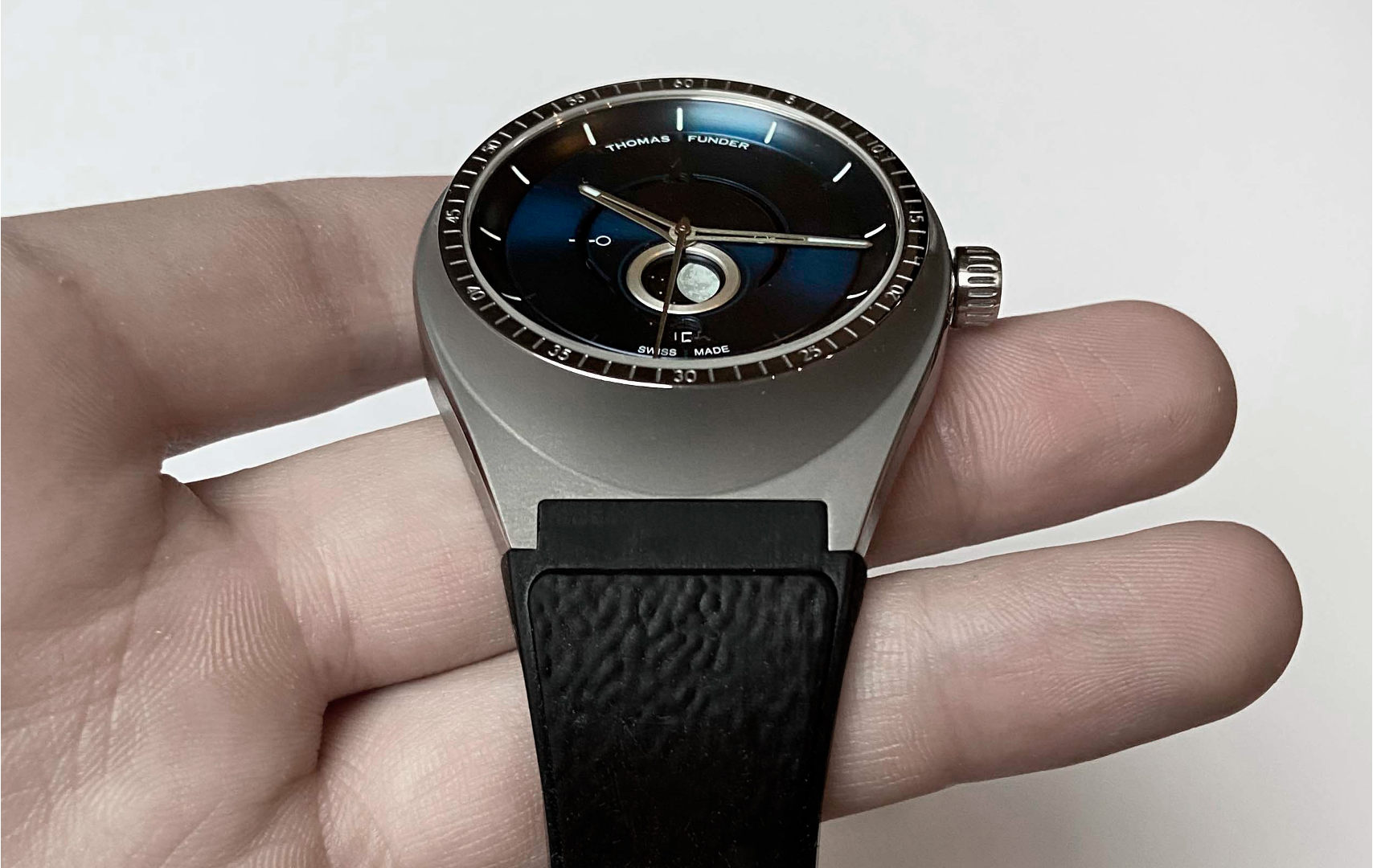 The module
One movement. Three different ways to read the moon
The case
Perfect monocoque ergonomy and wrist comfort
Deep dive with our resources